It was around the end of 2006 when we acquired our first Labrador Retriever, Jack. He has been a truly wonderful addition to our family. His temperament, ease of training, and overall personality led us to develop the "Loveable Pups" section of our ranch in 2018. We are proud to offer AKC registered Labrador puppies for sale in Northeast, TX. Please enjoy our Loveable Pups pages and contact us with any questions.
Adoption Process
We strive to make the process of adopting one of our adorable pups as smooth as possible. We also want you, as the potential new parent to receive accurate and consistent information.
Care of our furry friends begins by providing a clean comfortable environment for mom and pups. Treatment, medications, and vaccines are given per our veterinarians recommendations. At approximately 3 days of age the puppies have their dew claws removed. Puppies are then given dewormer at 2, 4, and 6 weeks of age. They also receive first DAPP vaccine at 6 weeks of age. Up to date shot records are given to the new parents when puppies are picked up.
There is a $300 deposit required to reserve your deposit, and puppy picks are awarded in the order which deposits are received. The balance is due in cash when the puppy is picked up.
Visitors are not allowed until the pups reach at least five weeks of age.
Thank you for considering Abundant Life Ranch.
Sires
Dams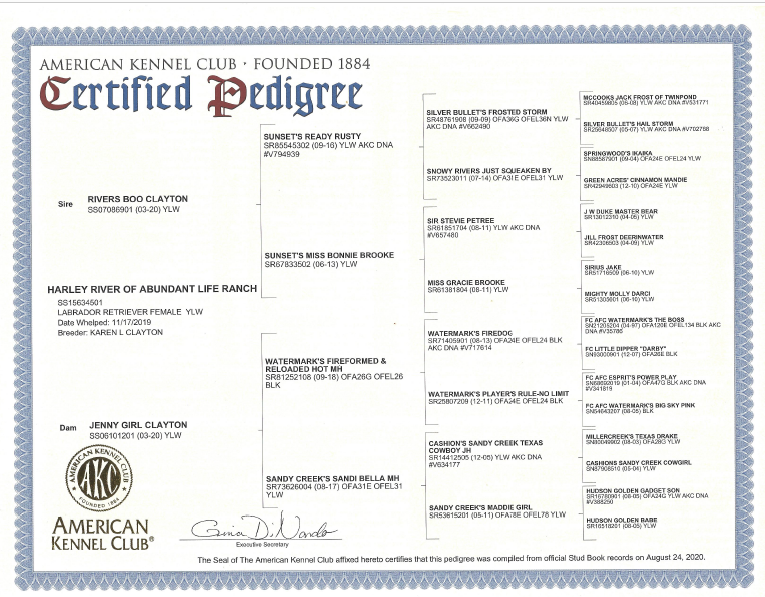 In order to reserve a puppy we require a non-refundable deposit of $300 with the balance due in cash when the puppy is picked up.
We do not take any deposits on unborn litters.
All puppies have dewclaws removed and are up to date on shots and worming before going home with their new families.
We go to a lot of work to provide weekly pictures of our puppies, please don't ask for extra pictures.